May 09, 2022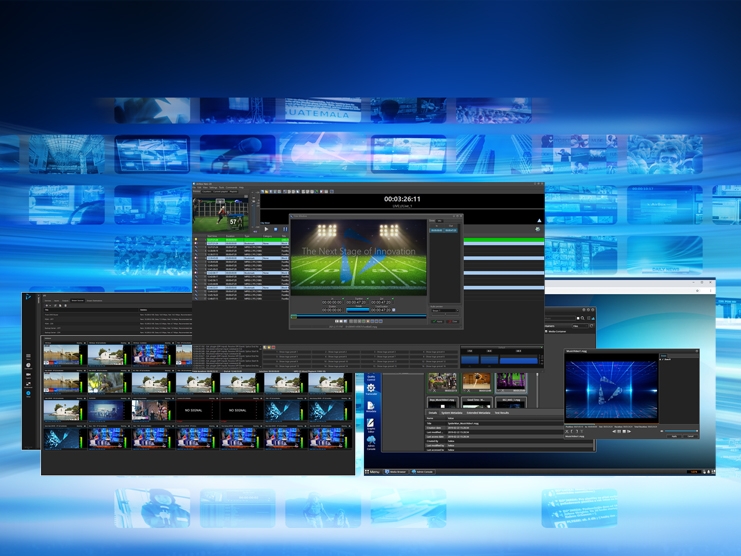 by Pavlin Rahnev (CEO) and Van Duke (US Director of Operations)
The cost of setting up a new broadcast channel has fallen dramatically over the years, encouraging many entrepreneurs to turn their creative ideas into reality. After testing their commercial potential online, the most successful then advance to a combination of OTT and satellite-based transmission. This is a dynamic development which offers viewers ever greater choice and potentially more informed program content.
The tools of broadcast production, refinement and presentation continue to evolve and have reached the point where almost every aspect of the creative workflow can be controlled from a network-connected environment.
Internet-based remote working has massively increased in importance at every point in the broadcast chain from remote trucks to robotic-camera studio production, editing, channel branding, playout and transmission. That looks to continue along with an ever stronger focus on operational efficiency.
Competition for viewer attention is becoming stronger than ever. Broadcasters are rising to this challenge with increased investment in subject-specific or region-specific programs to maintain a distinct identity and maximize viewer loyalty. Graphic branding is playing an ever more important role.
Making it affordable
New broadcast startups face an almost bewildering range of options in how best to focus their resources. Accommodation, personnel, production resources, content storage and transmission connectivity all add to the initial investment burden. Little surprise that many channels start by leasing wherever possible rather than investing up front. Recognizing the need for economic flexibility, we offer playout systems on a modular basis to match any scale or style of operation, from a single OTT-streamed channel up to a globally active terrestrial/satellite/online multi-language network. PlayBox Neo systems are available in various configurations: as onsite systems, offsite systems, virtual, cloud-based or any desired combination.
Space-efficiency, on-premises, virtual or cloud-based
Most broadcast TV channels operate from locations where space comes at a premium. The Channel-in-a-Box approach allows turnkey systems based on off-the-shelf servers to be integrated into a physically compact solution, including the option of main-plus-standby configuration. Further space-saving can be achieved by locating the system at a remote playout facility or virtualizing it in a data center. Content created or assembled at the channel's headquarters is then despatched in file format to the playout service provider. IP connectivity allows a single operator to populate the system, working to an agreed playout schedule which will, in turn, be notified to the relevant electronic program guides. Commercials and promotional interstitials are handled in the same way for any desired level of automation. Whether on-premises, virtual or cloud-based, our solutions are designed to run completely unattended. The channel's managers retain full freedom to change the schedule order ahead of the currently airing file or cut away to an alternative feed such as late-breaking news. Figure 1 shows examples of the PlayBox Neo user interface.
Operational efficiency
IP-based remote working is a standard feature of the broadcast presentation playout sector today and one which we have developed over the past 22 years. We offer UHD/HD/SD playout solutions designed to handle every building block of the content management process from ingest, pre-production and scheduling to terrestrial, satellite and online transmission.
Forming the core of many PlayBox Neo installations, our AirBox Neo system – now at version 20 – allows channel branding and playout to be performed within a single compact system. An automated streaming and SDI playout solution, AirBox Neo-20 is designed to make TV content creation and management easy and stress-free. Suitable for local or IP-linked remote control, it allows scheduling to be performed weeks ahead of actual transmission. Media files can be finessed, rescheduled or integrated with live production and playlists configured for 24/7 automated operation. Delivery across multiple time zones in multiple languages is supported.
Recent AirBox Neo-20 refinements include GPU acceleration to achieve fast file decoding. Input/output configuration can be performed using a web-based resource monitor connected via a secure link. Automatic alerts warn operators of absent or frozen video feeds via a web-based multiviewer. Picture-in-picture digital video effects creation and real-time loudness compliance are also provided. Transport stream and XDCAM MXF file clips can be played back while still being ingested. Enhanced connectivity capabilities include NDI input in addition to the existing compatibility with SDI, MPEG-2 TS and UDP streams. NDI output is also now included, supplementing the existing SDI, SRT/UDP/RTP stream and RTMPS outputs.
The SaaS approach: Cloud2TV
Available on a SaaS subscription, PlayBox Neo's Cloud2TV is designed to function on any desired scale, virtual, cloud-connected or in any desired hybrid configuration. it is fully compatible with existing AirBox Neo-20 playout infrastructure and can be used to extend both scale and functionality. Specific Cloud2TV applications are assigned to content ingest, graphic editing, media browsing with metadata handling and clip trimming, quality control and verification, transcoding, playlist management and audit logging. These can be closely coordinated to provide a full set of broadcast resources supporting the workflow of an entire TV channel. Cloud2TV is configurable for terrestrial, satellite or CDN-based playout under full IP control. It also forms a robust platform for secure media asset management and archiving, accessible by authorized operators anywhere in the world.
Bypassing the ingest bottleneck
An option designed for standalone use or within a PlayBox Neo playout system, Capture Suite speeds up the ingest workflow of television networks, postproduction facilities and playout service providers. Ingest operators gain the ability to control multiple ingest channels across multiple storage devices or services. Functions such as input selection, ingest presets, file-naming rules, assignments and auto-transfer can be performed quickly and easily from a single web user interface.
Capture Suite features include a multiviewer with black-frame and freeze-frame alarms plus loudness audio level monitoring, as well as manual, scheduled and compliance, ingest modes with automated input switching. Content can be edited in Adobe Premiere and Grass Valley Edius Workgroup 9+ while ingesting. MXF and TS files being ingested are available for immediate playout via AirBox Neo-20 automation without having to wait for the ingest process to complete.
IP-connected playout monitoring and control
A newly enhanced PlayBox Neo module, Multi Playout Manager (MPM) is a broadcast playout monitoring and control system which allows multiple AirBox Neo-20 channels to be operated via IP from any network-connected location. The latest version includes an updated user interface, shown in Figure 2, and integrated playout preview. Optimized performance combined with fully integrated playout preview makes remote control and monitoring easier than ever. At MPM's front end is a revised user interface designed to match the UIs used across the entire PlayBox Neo series. A built in editor enables users to create future playlists. MPM also provides support for custom metadata from AirBox Neo-20 and includes a library module for fast access to MAM. Media files can be drag-and-drop moved from library to playlist or processed into multiple folders with customized metadata settings such as category and folder color. A supervisor can also custom-brand the MPM user interface with an organization's or channel's logo.
Uniqueness
Many broadcasters strive to appeal to the widest possible audience. Others focus on specific themes or regions. Graphic branding plays an important part in establishing and maintaining the character of a television channel. A powerful PlayBox Neo module is TitleBox Neo-20 which provides total control of titling, graphics generation and text management in advance of transmission and live on-air. Supporting 4K-UHD, HD and SD, it includes horizontal crawling text, vertically rolling credits and messages, still and animated logo graphics, analogue and digital clocks, banner slideshows and chat text with automated horizontal or vertical scrolling. Designed to integrate closely with a PlayBox Neo system, it can also be used standalone for a wide variety of applications including broadcast stations, info-channels, transport hubs, retail malls or wherever attractively produced text and graphics are required for public display. The TitleBox Neo-20 toolset gives creative users great operational flexibility. Among its facilities are pre-constructed graphic components, video resizing (from live source or file), window-style display and website content ingest. Continuity is a vital element of any television channel's visual branding. This can be ensured through the use of administrator-approved templates which ensure operators conform to preset graphic guidelines.
Summary
In short, the PlayBox Neo development team strives to give broadcasters what they need, when, where and how they need it.